July Home Entertainment Reviews
SPACE JAM – July 6 4K release
To celebrate the 25th anniversary of this family classic, Warner Bros. has given it the 4K treatment. This 2160p transfer is definitely a step up from the Blu-ray in almost every way. The animation of the time looks just as wonky in 4K, if you could get past it on DVD then you can get past it now. The fully remixed sound is also a great reason to upgrade as well, that soundtrack bangs even harder.
If you were a child of the 80's when this hit and worshipped #23 like the rest of us, then you know this was the holy grail of kid's movies. Combining both the love of Saturday morning cartoons and the most iconic athlete of the century, it was sure to be a success.
The SPACE JAM Ultra HD Combo Pack contains the following previously released special features:
Commentary from director Joe Pytka, Bugs Bunny (voiced by Billy West) and Daffy Duck (voiced by Dee Bradley Baker)
Featurette: "Jammin" with Bugs Bunny and Michael Jordan
Music videos including Seal's "Fly Like an Eagle" and Monstars' anthem "Hit 'Em High"
Mortal Kombat – July 13th 4K, Blu-ray, and DVD release
The directorial debut of Simon McQuoid, this incarnation of MORTAL KOMBAT forges its own path while remaining familiar to die-hard fans. The fights are brutal and each character's iconic moves are on full display. While the narrative may have been a bit too meandering and not focused on the actual tournament, there is plenty in the film to enjoy.
Leaning into the R-rating brings all the gore and fatalities one wants out of a MORTAL KOMBAT movie. The bright spots are Subzero and Scorpion and their inevitable duals, seeing Goro in all his glory is definitely a highlight. If you are a fan of the franchise this will definitely find things to enjoy, if you are a diehard fan, well maybe wait for the sequel.
The 4K and Blu-ray combo pack contain the following special features:
Deleted scenes from game to screen: The making of Mortal Kombat
Mortal Kombat: fan favorite characters
Fight Koreography
Inot the Krypt: Easter eggs of Mortal Kombat
Anatomy of a scene
Mortal Kombat DVD contains the following special features:
The Spongebob movie: Sponge on the Run – July 13  Blu-ray and DVD release
Spongebob and Patrick are back with another fun filled adventure, this time searching for Gary the snail, who has gone missing. This being the third feature length film there are still laughs and silly stories to be told. This isn't the best Spongbob movie, but it's certainly better than a lot of the kids fluff out there. With a wealth of special features including a mini-movie and campfire songs.
Bonus features on Blu-ray and DVD:
Mini-movie – I'm Urchin You to Leave
Campfire Songs
Agua music video by Tainy &J. Balvin
How We Do lyric video by Snoop Dogg and Monsta X
Krabby Step lyric video by Tyga, Swae Lee & Lil Mosey
Agua lyric video by Tainy & J.Balvin
Campfire Stories
Deleted Storyboard: Wake Up
Deleted Storyboard: Sumo Ninja
Camp Coral Buddies
The Ballad of SongeBob and Patrick!
I (heart) Camp Coral by SpongeBob SquarePants
Camp Arts and Crafts
Drawing the cutest camper ever
Drawing the cutest snail ever
The amazing stages of animation
But wait… there's s'mores!
The wonders of Patty Mobile
Wrath of Man – July 13 Blu-ray and DVD release
Guy Ritchie has his own brand of frenetic action, sometimes he strays and does ALADDIN or a Sherlock film, but he's always come back to where it all started, shoot 'em up actioners. WRATH OF MAN is no exception, with brutal action and pulse pounding fights.
This release does not come with any special features.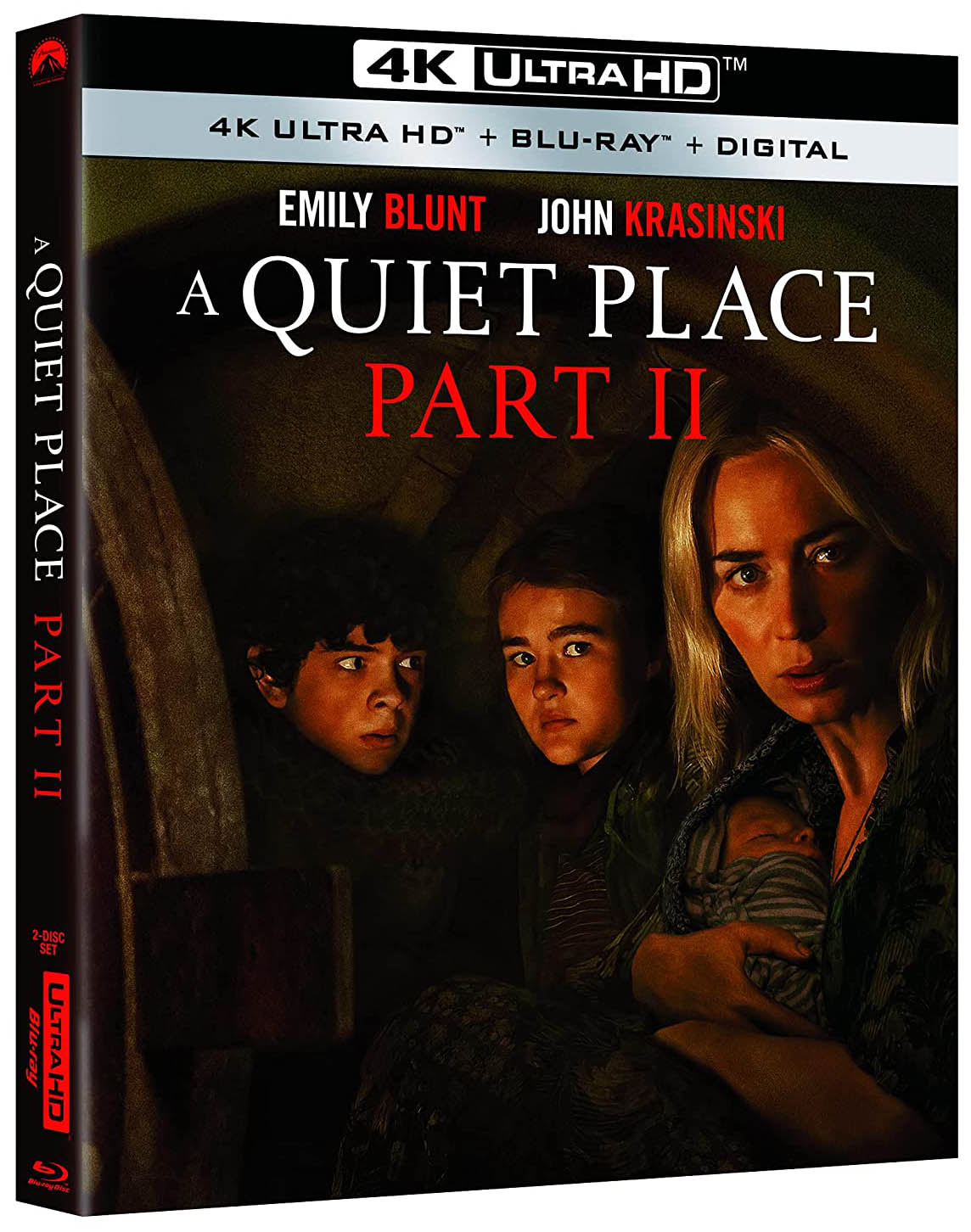 A Quiet Place Part II – July 27 4K, Blu-ray, and DVD release
The eagerly awaited second installment of the surprise smash hit A QUIET PLACE is a worthy sequel. Set minutes after the first one ended, the Abbott family must face the outside world and fight for survival.
See my full review is HERE.
The 4K disc contains only the feature film.
The Blu-ray special features:
Director's diary: filming with John Krasinski
Pulling back the curtain
Regan's journey
Surviving the marina
Detectable disturbance: Visual effects and sound design