JUNGLE CRUISE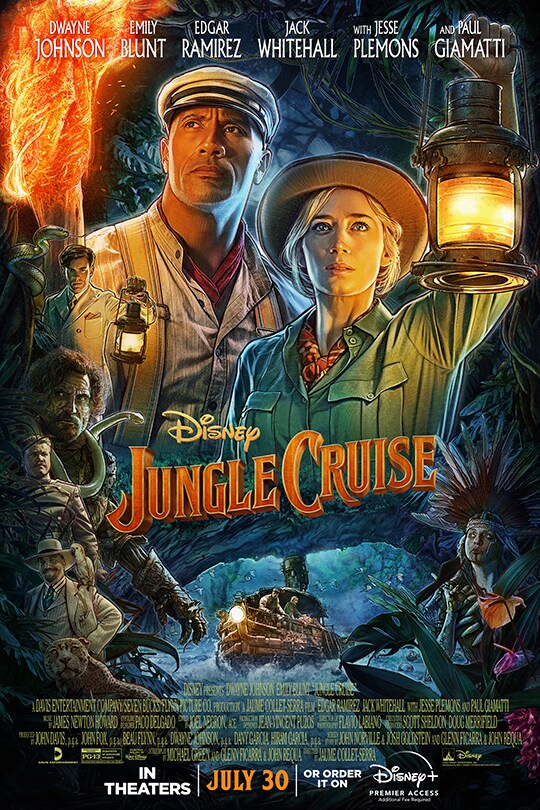 The era of swashbuckling family films has fallen to the wayside in recent years. Pirates of the Caribbean, National Treasure and The Mummy have all come and gone leaving behind less than stellar sequels and spin-offs in their wake. The time for a resurgence is hopefully here, and leading the pack is Jungle Cruise. If you're familiar with the ride in any way, then you will not be disappointed.
Dwayne Johnson steps into the role of the tour guide is ease, his penchant for terrible puns and gimmicks to impress the tourists is spot on, and fortunately, so is his penchant for bringing his "Rockisms." There is no eyebrow-raising, no flexing of his pecs. Just a guy who knows his assignment and nails it. Part action hero, part romantic lead, and all ship captain. The other lead in Emily Blunt is the perfect compliment. She embodies her character with such joy and mischievousness that the back and forth between the two really jumps off the screen.
The adventure down the river is full of delights, including Nazis, cursed conquistadores, and of course, magic. Jesse Plemmons and Paul Giamatti are hamming it up hard, both looking like they are having the time of their lives.
The film isn't all hits though, at over two hours in length there are some parts that drag and may leave the younger audience bored. The special effects are a bit hitchy, I don't know if they are undercooked or ran out of time, but it can be quite jarring at times. There are a few too many plot points in what is essentially a road trip movie. As all the parties involved make their way to the proverbial treasure, it seems a little too crowded, and following all the threads contributes to the bloated runtime. Overall director Jaume Collet-Serra brings a fantastic adventure romp that is sure to thrill audiences young and old. If there was ever an example of a good old-fashioned adventure, this is it.
4 out of 5
The Green Knight
Of all the films that fell prey to the COVID release catastrophe, The Green Knight may be one that was the most disappointing. Coming from A24, one of the brightest stars in the galaxy of studios and making a name for itself for making a home to prestige pictures. Throw in Dev Patel and a bold Arthurian story from David Lowery and it's enough to whip fans into a frenzy.
We are treated to an epic fantasy adventure based on the Arthurian legend, The Green Knight tells the story of Sir Gawain, King Arthur's irresponsible and impulsive nephew who embarks on a daring quest. A quest to confront the Green Knight, a large tree creature summoned by witchcraft whose challenge was met by Gawain. Part of that challenge was to meet after one year to deliver the same blow that was dealt to him by Gawain – a decapitation.
This is high fantasy on such an elevated level that it's not fair to the other Arthur films. Director David Lowery has crafted a beautiful and lived-in kingdom. Every detail is pitch-perfect, from the costumes and weapons to the hairstyling and thatched roofs. Rich and striking imagery brilliantly shot by cinematographer Andrew Droz Palermo who will be throwing down the gauntlet this awards season.
It would be impossible to tell a story about Gawain without seeing the many splendid characters that make the legend of Arthur so sought after to this day. Sean Harris and Katie Dickie play the aging King and Queen to near perfection while Sarita Choudhury plays Gawain's mother with devilish excellence. Not to mention Dev Patel, an actor who has been putting in solid work for over a decade since Slumdog Millionaire. We are halfway through the year but he already has my vote for best actor.Patel brings an intensity with his acting that you can see on his face. He is more than capable of being the leading man, showing all the highs and lows of his character and bringing this epic story to life. It has been some time since a sweeping fantasy epic has really stuck the landing and boy does it ever.
As he makes his journey to seek out the Knight he is met with a series of tests trying to befall the would be Knight, testing his chivalry, bravery, and compassion amongst others. Barry Keoghan, Joel Edgerton, Alicia Vikander, and Erin Kellyman all play a part in these moments leaving behind a memorable adventure.
My only small complaint is that the last third of the film drags a bit too long, stalling his journey at a castle right before meeting The Green Knight. While this is necessary to the plot and his journey, it feels a bit too long.
Altogether, The Green Knight is beautiful, dirty, sexy, and powerful. It is fantasy done right and we should be so lucky to have witnessed it.
4.5 out of 5