Actor turned Writer/Director Amy Seimetz has brought us her sophomore effort. She Dies Tomorrow is a raw and palpable look at fear and coming to terms with death. Seimetz has created a melancholic art piece, with bold strokes and uncompromising vision. Whether that is good or not may be figured out while watching. Set to debut at the 2020 SXSW film festival until its inevitable cancellation due to the virus.
Have you ever felt and overwhelming sense of bad vibes? Knowing, in the pit of your stomach that something is very wrong. That is the emotion that is analyzed in the film. If that makes you uncomfortable, tread lightly.
For Amy (Kate Lyn Sheil), it is this very feeling that overcomes her and rules her life. We are introduced to her as she wonders around her house drinking wine. Boxes still full from a recent move, cryptic phone conversations filled with ennui. From the outside, one might see a woman in the middle of a sort of midlife crisis, unsure of how to move forward with an obvious new start. The film takes its time showing the mundane, often confusing actions of Amy until it becomes clear to her, and the audience, that she thinks she is going to die. Not in a moody, "I'm having a bad day" way, but actually knows, to her core, that she is going to die tomorrow.
If you are looking for a race against the clock drama about fending off death, you will be sorely disappointed. Once Amy is sure of what will happen, we watch her explore the varied emotions associated with such knowledge – fear, anger, and eventually acceptance. Her friend Jane (Jane Adams), attributes these feelings to her "falling off the wagon", a bit of information we were not aware of before, could Amy's struggles with alcohol have led to this episode? I'm afraid we will never know. Amy relays to Jane that she knows she will die tomorrow, Jane brushes the comments off as depression. But as Jane goes home, she finds herself feeling the exact same way. Knowing that death is coming for her, Amy's worst fear has become contagious.
This revelation – knowing you will die tomorrow – begins to spread. Jane goes to her brother's house (Chris Messina) where there is a small gathering celebrating his wife Susan's (Katie Aselton) birthday. Jane begins to unload her dread onto her brother and his guests, (Tunde Adebimpe and Jennifer Kim) leaving them somewhat unnerved and Susan furious. But, one by one, that dread creeps into everyone's head.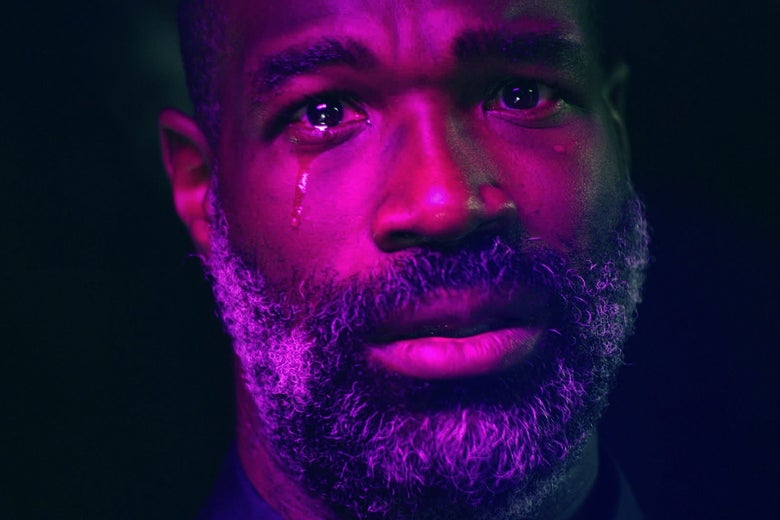 The film does a good job at setting the right mood, and that tone is felt throughout, no matter who has the focus. Unfortunately, that particular tone is only compelling for about 15 minutes before it becomes rather boring. Tackling existential dread and its effect on humanity is especially prescient right now, the timing is impeccable.
The natural questions that arise while watching are not the questions Director Amy Seimetz is interested in answering. There is no mystery to solve. There is no resolution to the terror. We just watch as this wave of anxiety and fear spread from person to person, no silver lining or ray of hope. Just death.
Although expertly crafted and executed, this is definitely an art film, one that is abrasive and befuddling. The slow burning story and pacing inconsistencies are irritating, paired that with such a bleak outlook, this is one you can skip.
2 out of 5